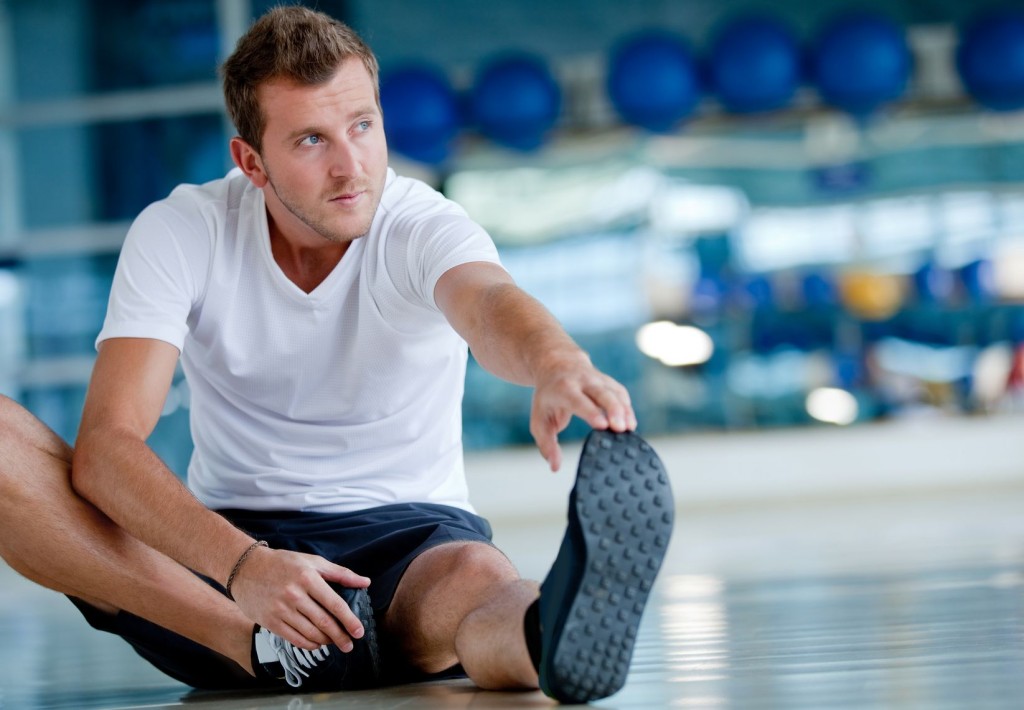 My client Rob is a 6'3" former basketball player who consistently struggles with tight hamstrings.   His full-time job as a realtor means that most days of the week, he drives people all over town to find their dream home.  Because he spends so much time crammed in the car in a folded-up position, his back, hips and knees take a beating, or should we say, they become "wrecked!"  Drive safely, Rob!
At the beginning of each session, our clients go through a movement screen that gives us some insight on how the body is moving that day, and where there are limitations.  One of our screens is to bend over and touch your toes.  You are probably familiar with this movement from your days in P.E. class.  As you likely remember, this can be difficult to do while keeping your legs straight! As soon as Rob's hands reached his knees, he would stop.  He physically could not reach down any further because of his "tight" hamstrings.
During the first few sessions, we would spend the first 5-10 minutes stretching his hamstrings, among other muscles that appeared limited in the movement screen.  His hamstrings would lengthen after we stretched them, giving him more range of motion, but they didn't hold the length for more than a day or two.  He would come back a week later with tight, restricted hamstrings again.  He was frustrated and frankly, so was I!
What we discovered, was that Rob's hamstrings weren't short and strong, they were short and weak!  What? A former basketball player with weak hamstrings?  Many times, the feeling of being tight manifests from a lack of strength.   Your hamstrings play a crucial role in many daily activities, such as walking or riding a bike.  Strong and long hamstring muscles help to protect your knees and your back!  Rob's short and weak hamstrings were contributing to his back pain as well.  Once we strengthened his hamstrings, the "tightness" feeling dissipated, and his back pain resolved.  He is now able to drive his clients around Richmond without the extra stress and pain he once experienced.
If you relate to Rob's story, and think you might have short, weak hamstrings, try the forward bend below.
Forward bend:
With your feet hip-width apart and legs straight, tuck your chin to your chest and slowly roll down "1 vertebra at a time," attempting to touch your toes.  If you feel restricted or limited in the back of your legs, you might have short, weak hamstrings.
Of course, you can always try stretching them, but if they are weak, the ball plank exercise below is a safe and effective exercise to increase hamstring strength and length. Note: not all hamstring strengthening exercises will result in resolving that tight feeling. Hammering them on the Leg Curl Machine at the gym will likely result in making them actually feel shorter. You'll need to try a gentler approach with specific exercises, like the Straight Leg Ball Plank below:
Straight-leg Ball Plank: Lie on your back with legs out long, lower calves on an exercise ball, pelvis and spine neutral. Arms should be at your sides (on the floor) for balance. Press down into the calves to lift the hips, straightening the legs and reaching them away.  (Resist tucking the tail.) Keep the body long, but avoid arching the back. Lower the hips back to the floor slowly and with control. Practice 2 sets of 5.
If you are not sure whether your hamstrings are short and dominant or short and weak, contact me at [email protected].  I'd be happy to take you through a thorough assessment and determine the stretches and exercises that will work best for you.