Suspension Exercise
Suspension exercise is among the fastest growing trends in home fitness, personal training and physical therapy. Utilizing your own bodyweight as resistance, this type of training offers hundreds of exercises to enhance your workouts or treatment experience. Suspension exercises demand total body awareness and the recruitment of many stabilizing muscles to help you build a lasting core foundation and a strong body in less time and in less space than conventional training methods.
Bungee Assistance…
Only on the Redcord can persons of any age, condition and strength level safely perform suspension-based exercises. There are slings and elastic bungee cords available to assist you in maintaining proper exercise technique without the interference of pain.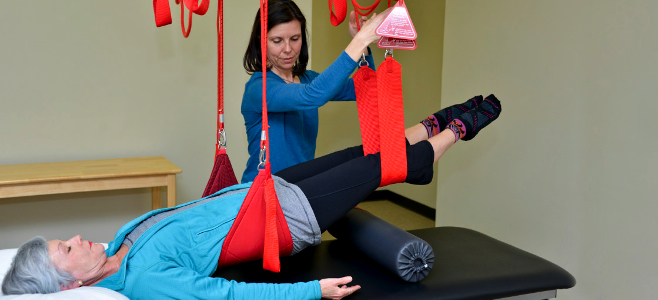 The result…
Your body re-learns how to properly stabilize from the inside out, promoting healthy movement and reducing pain. You return to more traditional styles of training and/ or your favorite activities faster with a lower risk of re-injury.