Chin Glide on Foam Roller (w/ retraction): Lie along your roller so that your head is on one end (with 1-2 folded towels under it) and your tailbone on the other. Knees should be bent with feet on the floor, spine/ pelvis neutral. Reach your arms out into an "A" position, palms up. Exhale to gently nod the chin and "lengthen" the back of the neck (feeling like the head reaches away from the neck,) as you squeeze your shoulder blades toward each other, and melt the lower ribs down. Inhale to release. Practice 2 sets of 5, without pain or strain.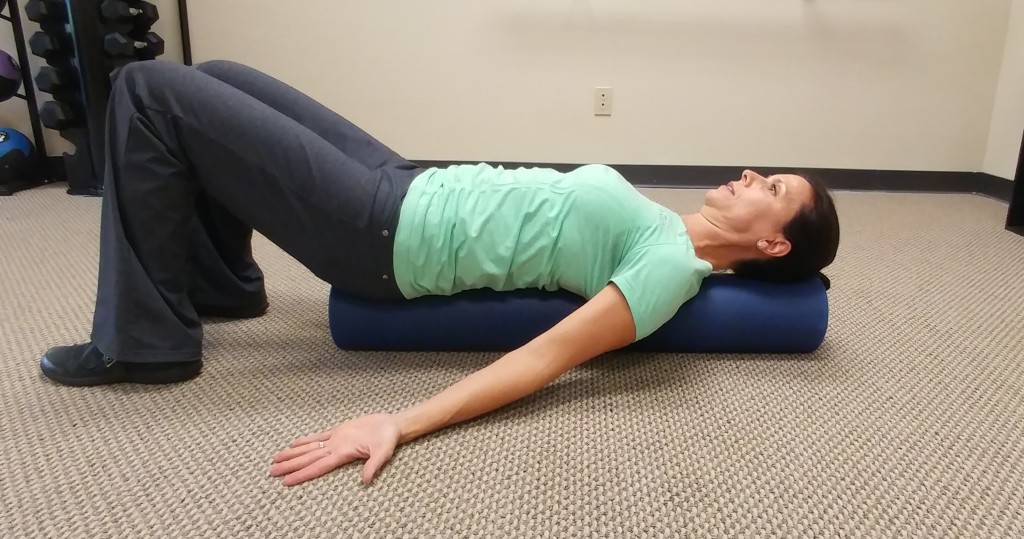 Shoulder Protraction at the counter: Stand facing your counter, with the feet stepped back enough that you have a right angle at the shoulders. Hands rest on the counter top at shoulder-width with arms straight and spine long (abs engaged.) Press the hands into the counter as you ease your plank forward toward the counter allowing the shoulder blades to squeeze toward each other (keep the spine relatively neutral and elbows straight.) Then push strongly into the counter to press your plank back into your shoulder blades, broadening your shoulder blades on your back (without rounding the back or shrugging the shoulders.) Practice 2 sets of 5.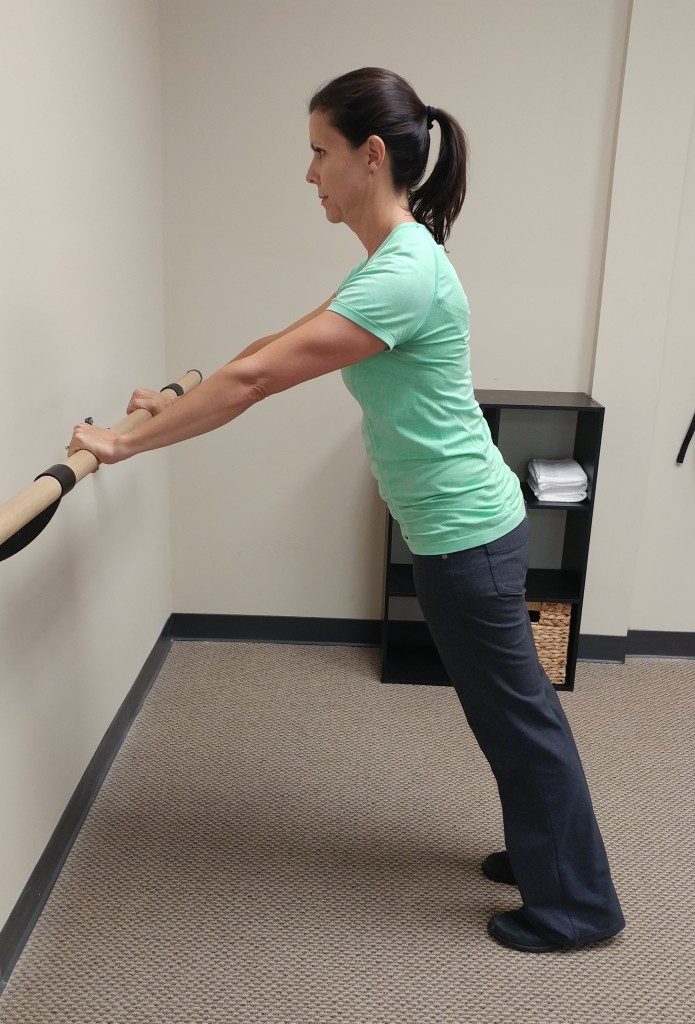 Seated Push-up 2 (shoulder blade depression): Sit tall on the edge of your seat with feet staggered and some weight in your feet. Place your hands next to your hips with your elbows straight. Squeeze the shoulder blades together (retract) as you slide just off your seat, lowering your body between your shoulder blades (elbows straight) to put you into a "shoulder shrug" with retraction. Be sure your head is aligned over your neck. Then keep retracting the shoulder blades as you push the body upward, bringing the shoulders to a more "neutral" position on your back. Practice 1-2 sets of 3-5 as tolerated.