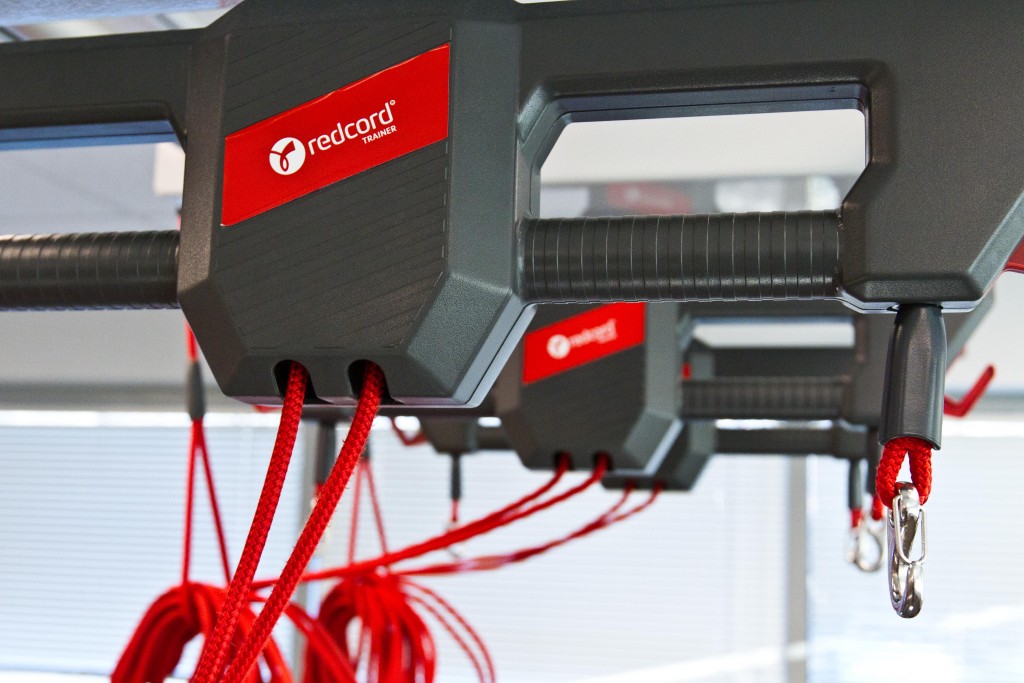 I recently met a new client whom I will refer to as Barbara. When Barbara walked in my office for the first time, she saw exercise balls, bands and stretch tables — pretty standard fare in any fitness setting. Then she stopped and stared, and pointed at the ceiling. A puzzled look came across her face as she asked, "What is the contraption with the 6 red ropes dangling from your ceiling… are you going to put me in that thing?  I'm here because my back hurts – not to take a trapeze lesson!" Fortunately, she was smiling as she said this!
I get this question a lot so I figured it would be helpful to write an article about it.
Those "red ropes" are actually a suspension exercise system called Redcord. Suspension exercise is popular in the fitness and rehab settings because it stimulates the neuromuscular system. That's jargon for activating the stabilizing muscles of the body that should work automatically during healthy movement. But for whatever reason: poor posture, overuse, injury or surgery, those muscles are no longer working when they should, as much as they should, or in the correct order. The unstable environment of the ropes and slings demands more body awareness and stimulates these muscles to respond accordingly.
You may have heard of suspension exercise through more mainstream fitness channels like group classes at a club, or even Crossfit. In that setting, suspension exercise is popular because of the challenge of using your body weight as the primary form of resistance in such an unstable environment. The only part of Redcord that is truly reminiscent of these more mainstream suspension training programs is that it hangs from the ceiling. We use slings and bungees to offload your body weight so that you can perform once-difficult or painful movements with more ease and without pain. This allows the neuromuscular system to re-learn correct, more efficient ways of moving. As the body learns how to move well and without pain, we start to work toward strength, endurance, flexibility, or whatever goals you have. That is why it is ideal for those who suffer with chronic back pain. Exercise does not have to hurt!
Why did I choose Redcord?
About 7 or 8 years ago, I got a call from my mentor in Exercise Physiology at UVA. As the head of the department, he was spear-heading research on this amazing new equipment that had recently come out of Norway. He called and said, "Amanda, I need you to get down here—you have GOT to see this." He knew that my passion was in post-rehab, and that I had a particular interest in back pain. I watched the guru work with a young woman who had been suffering with chronic back pain. In a 20 minute exercise session, he was able to "magically" resolve her pain! I was hooked. Several years later, when I was in the right place to take on the training, I called the newly-formed US training center in Princeton, NJ and told them to sign me up—I wanted to go through the training. Since then I've have the privilege count the head trainer for Redcord US as a cherished mentor and friend. I have worked with many people on this equipment since I began training with it in 2012, and have enjoyed incredible results. I have watched so many clients go from having debilitating back, hip and knee pain to resuming their favorite activities in a fraction of the time it used to take me with more traditional post-rehab and fitness exercises. It has become my go-to for almost any kind of ongoing pain syndrome that I see at Re-Kinect.
So what did I say to Barbara? First, that yes, she was going in "that thing," and that she would most likely come to love it. Most people love the feeling of being off-weighted in the slings and bungees. It can be just the thing to give an achy back the support it needs. I also told her that this system would allow her to exercise without pain. When we found a painful movement, we would work together to get the correct position and add the right amount of assistance so that she could move well, and pain-free. As the right muscles came online, we would begin to work toward more strength and endurance—all pain-free.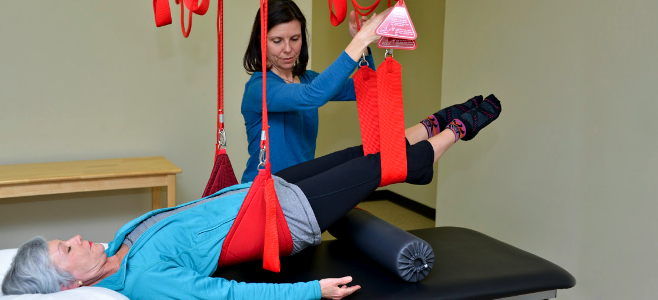 I'm happy to say that Barbara has since become a big fan! She looks forward to her sessions both on and off the Redcord equipment. She is now pain-free most of the time and enjoying a much more active life than she was just a few months before. Of course, much of Barbara's success lies in her willingness to keep up with her Home Exercise Program most days of the week. But that is another story…
Want to know more about Re-Kinect and Redcord? Click here to see our article in the Times Dispatch. If you have questions about whether you are a good candidate for our work, please contact me at [email protected].