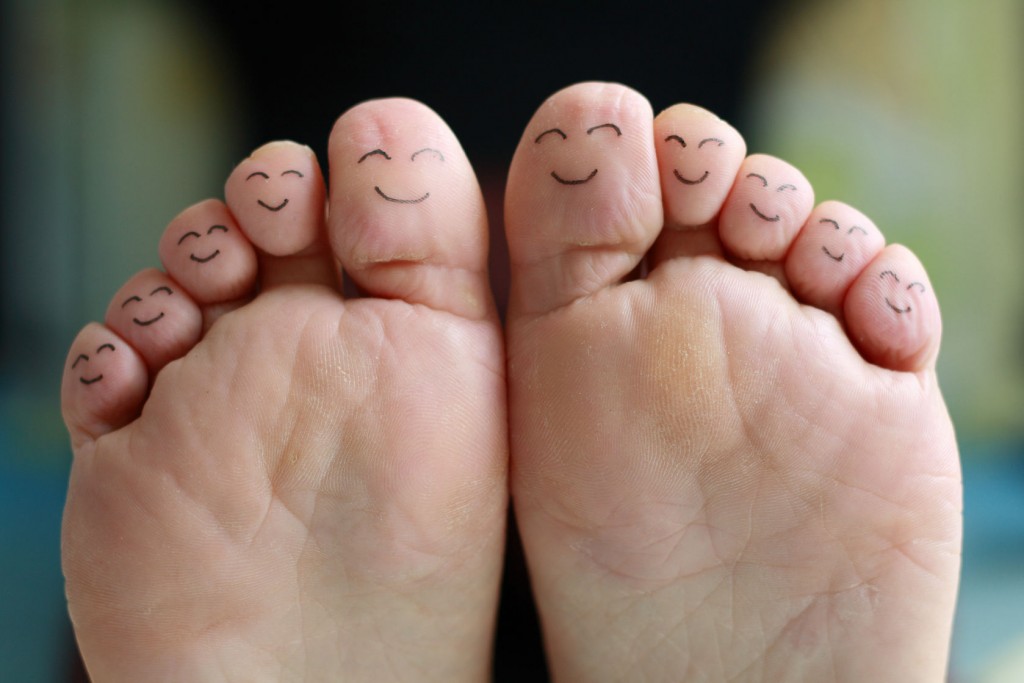 A few weeks ago, my client Blake came in for his weekly session with a new complaint- his feet were "killing him!" (And his back wasn't so great either.) I took a look at his shoes. They were a brand new pair of supped-up, stiff-as-a-board cross-trainers. And boy were they supportive! They even had insoles with a firmly molded arch support to "correct pronation" (or give his flat feet an arch.) In fact, these shoes were so rigid, that the foot seemed to barely flex as he walked, causing him to virtually "stomp" around. Blake admitted that his back and foot pain had only begun when he started wearing the shoes. But the shoe salesman had told him to expect some pain. He had said that the shoes "might be a little uncomfortable at first, but to keep wearing them, and they would break-in." After looking at the shoes, I was quite sure Blake would break-in before the shoes did!
It didn't take much convincing to get Blake to return the shoes. In fact, I could see the relief in his face as we discussed it. But what kind of shoes should he buy? To arrive at an answer, we need to look at the foot itself.
Each of our feet is made up of 26 bones and 33 joints. 33 joints! That's a lot! Granted, most of the joints in the feet are not meant to move much, (like knees and shoulders do) but they are made to move. Specifically, our feet are engineered to adapt to the ground underneath them. Think of walking around your yard in bare feet—those 33 joints are allowing your feet to conform to the earth beneath them, enabling the many muscles and tendons to make tiny corrections to your position so you can maintain your balance as you explore the yard. (If it's been a while since you walked barefoot outside, maybe it's time to give it a try!)
When we take that mobile, adaptable foot and put it in a shoe (usually starting in early childhood) we rob the feet of much of their mobility and adaptability, causing them to be more static. Why should you care? Your feet are your platform – your base of support. If they are stiff, dull, immobile, how well can your body move over top of them? And what changes must the rest of the body make to compensate? As I've mentioned in earlier articles, if the body loses mobility in one area, it will make up for it by changing the mobility in another area. Many times, the result is pain: pain in your back, your knees, your feet—even your neck!
To be clear, I am not suggesting that you go barefoot all the time, or join the minimalist shoe craze (although, I admit that I have.) I am suggesting that you consider more flexible foot wear, especially for walking and exercise. A running shoe—not even a high-end one, but just a basic running shoe, should be just fine for walking. We need to encourage that adaptable foot, not put it in a rigid "cast."
After hearing all of this, Blake was mildly irritated that he was unaware of this before he purchased his "foot prisons," but also a bit relieved. Then he told me that for years, he has been encouraged to wear "supportive" (read: rigid) shoes and stiff orthotics to correct his "flat feet." Was he supposed to just switch to a less supportive shoe "cold turkey?"
The answer is absolutely not! If you're used to wearing a stiffer shoe, and/ or arch support, you will need to make this change gradually and strategically. First, you need to begin strengthening your feet (see Mimi's article in this issue.) Then you need to begin wearing your more flexible shoes for short periods- maybe an hour or so at a time. If your feet haven't moved much in the last 20 years, you can make yourself very sore by switching your footwear all at once. It's important to really monitor how your feet feel as you make the transition. If they are becoming increasingly painful, you may have to slow the transition even more, or seek professional guidance to avoid injury.
So what became of Blake? Two weeks later, Blake came in for his session with a smile on his face and a new pair of shoes. These, he informed me, were much more like his old shoes, but a bit more flexible and a lot less expensive! His feet were feeling better with the exercises, and his back was once again pain-free.
Blake's story is not meant to be a blanket recommendation for flexible footwear. I readily acknowledge that there are circumstances that require folks to wear stiff shoes and rigid arch supports. For most of us, however, what we really need out of a shoe is a barrier to prevent tearing up the bottoms of our feet on rocks or something sharp. So as long as you are free of a condition that requires orthotic footwear, try a less restrictive shoe and free your feet!